Specifications Special Reamers and Core Drills
Required Information
To obtain the price of a "Special" or "Custom" Aircraft Reamer simply provide the basic specifications. As a minimum the following information is required:
We Manufacture Aircraft Special Reamers and Core Drills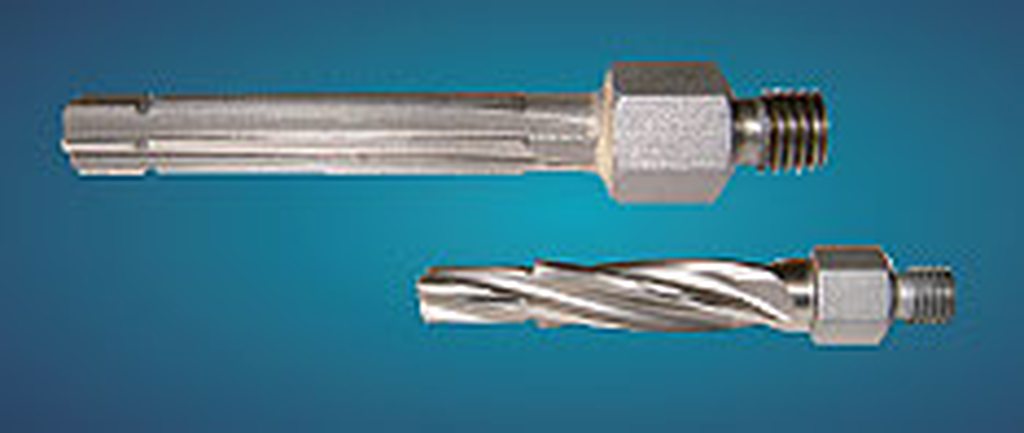 Some manufacturers shy away from these challenging tools that have demanding tolerances and complicated drawings. Alvord-Polk Tool has built its reputation for quality on just that type of work. Before we began manufacturing standards in volume, we were and still are a "Specials House." We enjoy contact with engineers in developing solutions to reaming problems. These jobs take a little more time and special attention, but with an experienced work force the "special" is produced without a hitch.
Many variables will determine the reamer's performance. Speeds, feeds, rake, reliefs, material to be removed, stock removal, rigidity of the setup, and the condition of the machine used for the reaming all affect the potential performance of the custom reamer required. See the specifics on our Technical Information page.
With all these determining performance factors, it is critical that a capable manufacturer be chosen to produce your tooling. At Alvord-Polk Tool, quality is built into our tools, not added on. The process begins with the purchase of high quality United States produced high speed steel. Experience proven salt bath heat treating gives our reamers their strength and superior wear characteristics. National aerospace standards are followed for geometric specifications. Flute diameter, O.D. relief, and chamfer relief are all ground between carbide lapped centers. This provides consistent margin widths, concentricity between chamfer and O.D. and the capacity to resharpen between centers.
Reamers, centerless ground to size, do not exhibit the uniformity of margin or the same degree of concentricity between O.D. and chamfer, as reamers ground between centers. Furthermore, reamers, centerless ground to size, do not allow easy size alterations or resharpening.
For over 110 years, Alvord-Polk Tool has provided excellence in the reamer industry. We're proud of the craftsmen that have made this possible and those craftsmen that will continue to keep our reputation for QUALITY intact into the next century.
Helpful Hints

Our experienced engineering staff will be prompt in replying to your inquiries. Specifying only the tool requirements that you absolutely need for your reaming operation will allow us to provide the most economical price and best delivery schedule.
Listed below are some questions to consider prior to requesting a quotation. Flexibility on any of these points could save time and money on your tools.
Could your requirement be met by altering a catalog tool?

Could you be flexible on minimum or maximum flute length?

Can you be flexible on the number of flutes?

Can you be flexible on the shank diameter?

Can you use either male or female centers?


Can you use a tool without centers?